Linksys LGS328C

24-Port Managed Gigabit Ethernet Switch with 4 10G SFP+ Uplinks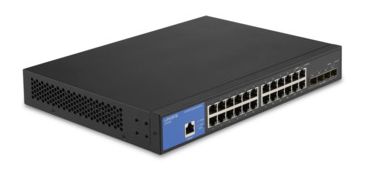 Linksys Products
Linksys Switches
24-Port Managed Gigabit Switch 4 10G SFP+ TAA
#LGS328C
Our Price: $350.99
Click here to jump to more pricing!
Overview:
Designed for business-class management, security, speed, and quality of service with 24 Gigabit Ethernet ports and 4 10G SFP+ uplinks.
Network Expansion
Linksys managed switches include features for quickly expanding and growing your network. Multiple high-bandwidth trunks between switches enhance availability and redundancy. Spanning Tree Protocol (STP) and Storm Control features help control planned or inadvertent cable loops, so you can confidently build a mesh of switches and quickly expand your network to support your growing workforce.
Network Security
Unauthorized access to the network and mission-critical data is a constant concern. Linksys managed switches help secure networks through port authentication, requiring clients to authenticate themselves before any data is passed. Advanced DHCP snooping and IP-MAC binding functions ensure network integrity and help prevent network attacks.
Quality of Service (QoS)
Numerous QoS features ensure that traffic is prioritized properly to deliver the best possible user experience for real-time applications like voice and video along with bandwidth-intensive graphic/video file uploads and downloads. IGMP snooping limits IP multicast traffic to the ports that requested it, enabling the rest of the network to operate at peak efficiency.
Key Features
8, 24 or 48 Gigabit Ethernet Ports
Dedicated SFP or SFP+ Uplink Ports
Advanced Network Security and QoS
Static Routing and IPv6 support
Ideal for surveillance cameras, access control, ProAV, projectors, access points, VoIP phones, and other demanding applications.
TAA Compliant
Features:

1G SFP OR 10G SFP+ UPLINK PORTS
Enable fast, dedicated connections back to your core network. Our 8-port ethernet switches come with 2x 1G SFP uplinks while our 24/48-port switches come with 4x 10G SFP+ uplinks.

NETWORK EXPANSION FEATURES
Build a mesh of ethernet switches easily with features like Spanning Tree Protocol (STP) and storm control. They help control planned or inadvertent cable loops so you can expand your network with confidence.

QUALITY OF SERVICE (QOS) TRAFFIC PRIORITIZATION
Prioritize traffic with numerous QoS features. Ideal for real-time voice and video applications as well as high bandwidth graphic or video uploads and downloads.

ADVANCED NETWORK SECURITY
Ensure data passes to authorized clients only with port authentication and MAC-based port security. Advanced DHCP snooping and IP-MAC binding functions assure network integrity and help prevent attacks.
TAA COMPLIANT FOR GSA SCHEDULE CONTRACTS
Linksys Ethernet switches are manufactured in Taiwan, which is a TAA designated country approved for GSA Schedule Contracts and federal use.

Dedicated Connections Back to the Core
Get a dedicated SFP Uplink to your core network or another switch Instead of taking away from one of your existing PoE+ ports. Plus, with our 24 and 48 port switches, you can get high speed 10G SFP+ ports to ensure maximum bandwidth capacity back to the core network for your edge devices.
How Does It Work?
Linksys Managed Gigabit switches can expand your network to devices such as surveillance cameras, access points, door access control systems, VoIP phones and ProAV systems. Advanced security and QoS features reliably secure and optimize your traffic for non-stop operation.
Hardware Specifications:
24-Port Managed Gigabit Switch
Total System Ports
24GE + 4 SFP+
Copper GE Ports (RJ45)
Ports 1–24
1G SFP Ports
NA
10G SFP+ Ports
Ports 25-28
Status LEDs
Power, Fault
CPU Memory DRAM
512MB
Power Input
100–240V
50–60 Hz
0.7A
Max Power Consumption
23.95W
Green Power Mode
EEE
Forwarding Rate
95.23 Mpps
Switching Capacity
128 Gbps
MAC Address
16K
Jumbo Frame
12Kbytes
Fans
NA
Enclosure Dimension (L x W x H)
330 x 230 x 44 mm (12.99 x 9.06 x 1.73 in)
Device Weight
1989 g (4.38 lb)
Operating Temperature
0 to 45°C (32 to 113°F)
Operating Humidity
10 to 90% RH
Storage Temperature
-20 to 70°C (-4 to 158°F)
Storage Humidity
5 to 95% RH (non-condensing)
Warranty Period
5 years (most countries)
Software Specifications:
| Model | Linksys Managed Gigabit Switches |
| --- | --- |
| Number of VLANs | 256 active VLANs (4,096 range) |
| VLAN | Port-based and 802.1q VLANs, Management VLAN, Guest VLAN support |
| HOL Blocking | Head of line (HOL) blocking prevention |
| Web User Interface | Built-in Web UI for easy browser-based configuration (HTTP/HTTPS) |
| SNMP | Version 1, 2c and 3 |
| Firmware Upgrade | Web browser upgrade (HTTP) and TFTP |
| Port Mirroring | Traffic on multiple ports (up to 3 ports) can be mirrored to another port for analysis with a network analyzer |
| RMON (1, 2, 3, 9) | Embedded remote monitoring (RMON) software agent support for enhanced traffic management, monitoring, and analysis |
| SYSLOG | Support log admin password/IP change activity enhancement, Local logging: buffered/flash, Remote logging: IPv4/IPv6/ hostname(IPv4) |
| Ethernet OAM | SFP information, SFP+ DDM, Cable diagnostic, Port statistics |
| Other Management | Telnet, SSH, DHCP client, system log, configuration upload and backup via HTTP or TFTP, PING, Traceroute, dual images, SNTP |
| Security | 802.1x Radius authentication, DHCP snooping, IP-MAC binding, port security supports limited dynamic lock and locked MAC address (256 max entries per port), DOS Attack Prevention, Port Isolation (Protected Ports) |
| Link Aggregation | IEEE 802.3ad LACP, up to 8 groups with up to 8 ports per group |
| Bandwidth Control | Rate limit according to network speed, 12kbps~1000Mbps: in steps of 16kbps |
| Storm Control | Support broadcast/unknown multicast/unknown unicast 16kbps~1000Mbps: in steps of 16kbps |
| Loopback Detection | Detects and prevents loops in the network by sending out loop protocol packets and shutting down affected ports |
| Spanning Tree | IEEE 802.1d Spanning Tree, IEEE 802.1w Rapid Spanning Tree, IEEE 802.1s Multiple Spanning Trees (16 instances) |
| IP Multicast | IGMP, MLD |
| IGMP Snooping/Querier | IGMP (v1/v2/v3) snooping provides for fast client joins and leaves of multicast streams and limits bandwidth-intensive video traffic to only the requestors; supports 256 multicast groups |
| MLD Snooping/Querier | Support v1, MLD snooping fast leave (per-vlan), MLD querier, Dynamic router port, Static/forbidden router, Report suppression |
| DHCP | IPv4 DHCP Relay, IPv4 DHCP Relay Statistics, IPv4 DHCP Snooping |
| L3 Static Routing | IPv4 (63 max entries), IPv6 (21 max entries) |
| L3 IP Multicast | IGMP, MLD, L3 IP Multicast Routing |
| Access Control List (ACL) | Ingress, MC Based ACL, IPv4 Based ACL, IPv6 Based ACL, ACL Binding, Action: permit/deny |
| QoS Priority Levels | 8 hardware queues |
| Scheduling | Strict, Weighted Round Robin (WRR) and Strict + WRR |
| Class of Service | Port-based, 802.1p priority-based, IPv4/v6 IP DSCP-based |
| Auto Voice VLAN | Voice traffic is automatically assigned by OUI to a voice-specific VLAN and treated with appropriate levels |
| Standards | 802.3 10Base-T Ethernet, 802.3u 100Base-T Fast Ethernet, 802.3ab 1000Base-T Gigabit Ethernet, 802.3z Gigabit Ethernet, 802.3x Flow Control, 802.3ad, 802.1d STP, 802.1w RSTP, 802.1s MSTP, 802.1q VLAN, 802.1p Priority QoS, 802.1x Port Access Authentication, 802.1ab Link Layer Discovery Protocol, 802.3az Energy Efficient Ethernet |
Pricing Notes:
Pricing and product availability subject to change without notice.
Linksys Products
Linksys Switches
24-Port Managed Gigabit Switch 4 10G SFP+ TAA
#LGS328C
Our Price: $350.99