Linksys LAPAC2600C

LAPAC2600C Business AC2600 Dual-Band Cloud AC Wave 2 Access Point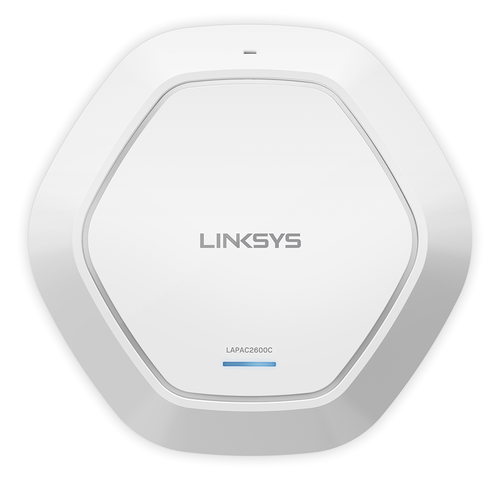 Sorry, this product is no longer available, Please contact us for a replacement.
Free Limited Lifetime Cloud Management License
Linksys LAPAC2600C Cloud Managed Wireless Access Point
The Linksys LAPAC2600C Cloud Managed Wireless Access Point delivers AC2600 wireless speeds with data transfer rates of up to 2.53 Gbps and includes free cloud management with Linksys Cloud Manager 2.0. Cloud Manager 2.0 lets you remotely manage multiple networks, access points and sites from one centralized and easy-to-use dashboard you can access anytime, from any device. Cloud Manager 2.0 will alert you to any network problems. You can easily access it from any computer, tablet or mobile phone to get real time statistics on your network health, including uptime, data usage, connected clients and more. The Linksys LAPAC1200C can be set to adopt the configuration of other Access Points and can be pre-configured while it is still in the box for rapid deployment. Linksys Cloud Manager 2.0 is ideal for businesses and IT solution providers who manage multiple customers, networks or office locations. It is scalable to manage thousands of access points over thousands of sites with no additional complexity or costs. You'll save time and money on on-site visits when you manage your networks remotely. Assign various levels of access rights to Cloud Manager 2.0 users to set roles and let key users modify or view specific networks.
Feature
4x4 802.11AC Dual-Band Wave 2 MU-MIMO AC2600 Speed (800Mbps + 1733Mbps)*
Centralized Multi-Location Management Platform
Free Limited Lifetime Cloud Management License
Zero Touch Provisioning & Remote Management
Fully Customizable Cloud Hosted Captive Portal Page
WPA2 Pre-shared Key, WPA2 Enterprise, External (3rd Party) Captive Portal
Band Steering, 802.11k/r/v Roaming, Sticky Client Prevention
Web based Cloud Portal Supports Smart Phone, Tablet and Desktop PC
Real-Time Bandwidth and Client Statistics
* Maximum performance derived from IEEE Standard 802.11 specifications. Actual performance can vary due to a number of factors including lower wireless network capacity, data throughput rate, range, and coverage. Performance depends on many factors, conditions, and variables, including distance from the access point, volume of network traffic, building materials and construction, operating system used, mix of wireless products used, interference, and other adverse conditions. The standard transmission rates—1733 Mbps (for 5 GHz), 800 Mbps (for 2.4 GHz), or 2.53 Gbps combined —are the physical data rates. Actual data throughput will be lower and may depend on the mix of wireless products used and external factors.
Overview

---