Cloud Manager 2.0
Be Anywhere. See Everything.

Enterprise performance tailor made for businesses of all sizes.
Free Limited Lifetime Cloud Management
5 years of free Cloud Management out of the box is an amazing deal, lifetime free is even better.1
Superior Hardware and Wi-Fi Roaming Performance
Enterprise class components combined with proven Wi-Fi industry standards (802.11k/r/v) guarantee the ultimate performance for wireless clients.
Fully Customizable Captive Portal Splash Page
Create beautiful splash pages without text and logo size restrictions using our free cloud hosted editor.
Advanced Wi-Fi Marketing Tools
Integrated customer analytics allow you to advertise, market and re-engage without the need for 3rd party services.2
Dedicated Technical Support Line for Businesses
Our CCNA certified support technicians are ready to support you Monday thru Friday, 5am-11pm PST, at no additional cost.
Manage all your networks in real time, through the cloud.
With Linksys Cloud Manager it's easy to manage all of your networks, access points, and clients under one intuitive and centralized dashboard.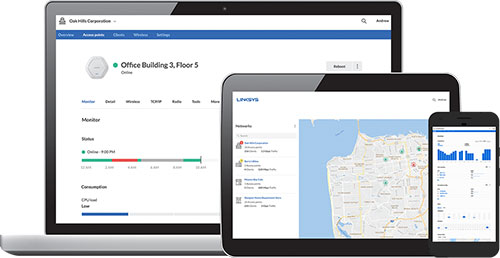 Remote Management
Our unique, fully responsive interface can be accessed by computer, tablet, or mobile phone, making it easy to manage your networks and access points from anywhere, and keep your services running smoothly.
Network Insight
A simple, easy-to-use interface and dashboard lets you effortlessly view historic and real-time network statistics and analyze the health of your network including uptime, signal strength, connection duration, and much more. This helps to avoid networking issues and the need for costly onsite monitoring.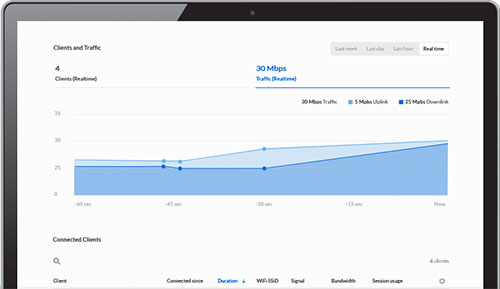 Linksys Cloud Manager Features
| Features | Linksys Cloud Manager 1.0 | Linksys Cloud Manager 2.0 |
| --- | --- | --- |
| Cloud Management License | 5 Years | Limited Lifetime1 |
| Number of SSIDs | 8 | 8 |
| VLAN Support per SSID | | |
| WPA2 PSK, WPA2 Enterprise | | |
| Captive Portal with Splash Page | Device Hosted, Basic Template | Cloud Hosted, Fully Customizable |
| Client Blocking | 20 Clients per SSID | Enhanced Black/White List (future release) |
| Wireless Client Isolation | | |
| Bandwidth Limit per SSID | | |
| Band Steering | | |
| 802.11k Radio Resource Management | LAPAC2600C Only | |
| Rogue AP Detection | | Enhanced (future release) |
| Management Interface | Local Standalone or Cloud3 | Cloud Only |
| Device and Bandwidth Statistics | 7 Days3 | Real-time Only |
| Event Notification | Remote Syslog, E-mail Alerts | Remote Syslog, E-mail Alerts |
| Ping Tool | | Enhanced |
| Blink LED | | |
| External Splash Page | — | |
| DHCP/NAT per SSID | — | |
| Custom DNS | — | |
| Isolate Wireless SSID from Wired LAN | — | |
| Bandwidth Limit per Client | — | |
| 802.11r Fast Roaming | — | |
| 802.11v Wireless Network Management | — | |
| Two Factor Authentication | — | |
| Scheduled Reboot | — | |
New and Improved Linksys Cloud Manager 2.0
Faster Zero Touch Provisioning
Provisioning gets even faster with devices that now take seconds, not minutes, to get their configuration from the cloud. Linksys new cloud portal is also more responsive, giving you important data on your networks quickly without the spinning hourglass. The platform is built from the ground up with cloud in mind, not as an afterthought. Our micro-servers deployed on AWS are always running 24/7 and have virtually zero downtime, even when new cloud features are released. They instantly become available to you without the need for inconvenient maintenance windows, because your business shouldn't be interrupted for any reason. And best of all, we are now offering Cloud Management for free for the lifetime of the device (previously 5 years free)1. All you need to do is upgrade to the new platform for free.
Beautiful Splash Pages that Elevate your Brand
Most hardware vendors have restrictive Splash Page templates because they host the page in the device, where memory is limited. We surpass those limitations by hosting the page in the Cloud, at absolutely no additional cost to you. Not an HTML programmer? No problem! Our Splash Page editor is easy to use so what you see is really what you get. Every business is unique, don't let your brand be dictated by a basic pre-made template.
Maximize your ROI with Wi-Fi Marketing Services
Are you maximizing your engagement with your customers when they arrive and after they leave your business? With Wi-Fi Marketing Services, you get the built-in tools needed to get the maximum value from your wireless network, without having to deal with additional 3rd party services.
Ability to serve advertisements and videos to Wi-Fi users.
Social logins with all popular social platforms (Facebook, Google, Twitter, Linkedin).
Visitor analytics and demographics information.
Integration with Mailchimp for e-mail campaigns.
Coupon voucher system for paid for Wi-Fi with different levels of access.
1
"Limited Lifetime" means service extends for the life of the product, for so as long as Belkin continues to manufacture the product. For more details, go to the following warranty link.
2
Requires add-on subscription service.
3
When upgrading to LCM 2.0, you will lose the following features: 1) Standalone Mode; 2) Device Statistics for the last 7 days.
If you are an existing user and wish to retain these features, you may continue to use LCM 1.0 for the 5 year license period.
Featured Products
---
Get in touch with a Linksys Solutions Specialist today to Learn More!